Web Design Projects
Intergroup Dialogue
Technology
Dreamweaver, Adobe Photoshop, XHTML, CSS, PHP
Description
Intergroup Dialogue (IGD) is a course taught by students for students at the University of Texas. The course explores social group identity, conflict, community and social justice.
I was contracted to finish the IGD website and recruit students for the course. I redesigned the website with easy to use online PHP Applications for students to apply for the course as a student or facilitator, to nominate a student and to contact the program.
The IGD program was also looking for a total of 35-50 participants for the following semester and I helped meet there participant quota. I recruited students by emailing over 900 UT organization presidents and asking them to forward my email. I spoke to courses of over 500+ and handed out flyers to interested students. Lastly, I spent a few hours a week, tabling and handing out flyers on and around campus, along with posting flyers.
This web site is currently maintained by the Intergroup Dialogue program.
Screenshot Examples: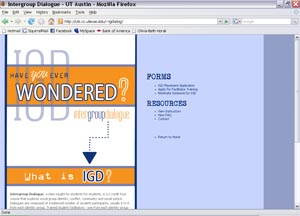 Page Header

PHP, Resources - Contact

PHP, Nominate Someone for IGD