Web Design Projects
University of Texas OUTLaw Website
Technology
Dreamweaver, Adobe Photoshop, XHTML, CSS, PHP
Description
OUTLaw is a social and political student organization dedicated to serving the gay, lesbian, bisexual, and transgender (GLBT) community at UT Law School. Their goal is to provide support for this community and a voice for GLBT concerns.
The OUTLaw President, Matt McChesney contracted me to complete the website in 2007. I redesigned the website with easy to use online PHP Applications. Simple CSS/XHTML for easy access and update of their additional pages.
This web site is currently maintained by OUTLaw.
Screenshot Examples: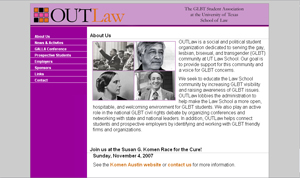 Page Header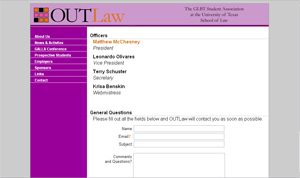 PHP, Contact Page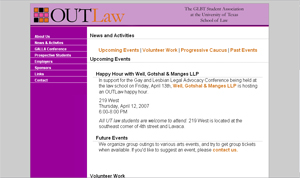 Activity Page